To sign up for a Life Group during Foundations Discipleship Hour,
CLICK HERE!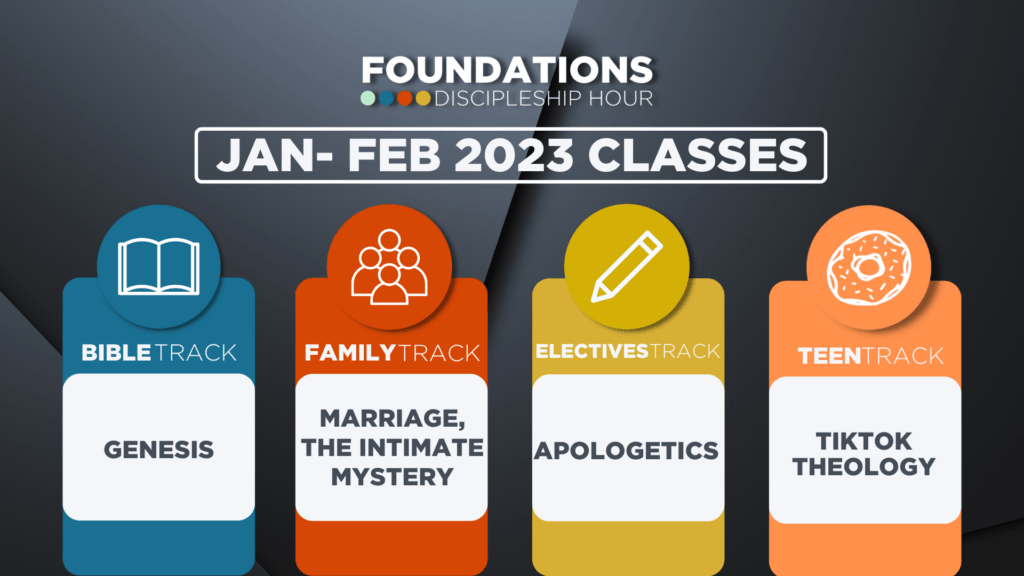 BIBLE TRACK
GENESIS
The purpose of the class is a give a mid-level intro into the first 11 chapters of Genesis. We will put personal Bible study habits into practice as we cover major stories like creation, the fall, the flood, and the Tower of Babel.
Taught by: David Sluka
Click Here to sign up.
FAMILY TRACK
Marriage, the Intimate Mystery
This study will examine the Biblical concepts of:
1. Leaving our family of origin in a God honoring way
2. Cleaving to our spouse
3. Weaving a life together
Taught by: Jerry Markins
Click Here to sign up.
ELECTIVES TRACK
Apologetics
In "Apologetics" we will learn how to think deeply and logically about the claims of the Bible, using the "Cold-Case Christianity" curriculum by J. Warner Wallace. Then we will apply our skills to answer some tough challenges to the New Testament and the Christian faith.
Taught by: Wes Bogard and Aaron Quinn
Click Here to sign up.
TEEN TRACK
TikTok Theology
Ever watched a TikTok or story where someone is pointing out holes or problems with Christian faith and you felt overwhelmed and unable to give an answer to their challenge? We are going to check out 8 TikToks and talk about the challenges these videos present to our faith. Along the way we'll develop some new strategies for approaching situations like what we find in these TikToks.
Taught by: Craig Durfor
Click Here to sign up.
KIDS TRACK (2 Years Old to 5th Grades)
BREAKFAST AT GRANDMA'S HOUSE
PURPOSE: Answer big picture questions with a condensed simplified biblical worldview bringing God near
TOPICS COVERED: God in real life, can we trust the Bible? How we worship
Click Here to sign up.
At Rock Prairie, we desire every member to know Christ DEEPLY, through Prayer, Discipleship, and Fellowship. The primary way we accomplish this is through our Foundations Discipleship Hour. Foundations takes place on Sunday mornings at 9:15, and consists of a 2 month rotating schedule between Discipleship Classes and Life Groups.
Our prayer is that every member of Rock Prairie will participate in the Foundations Discipleship Hour. See below for answers to frequently asked questions. If you have any further questions, please email Pastor Mike at mnafziger@rockprairie.net.
---
Foundations will replace our first service, and we will now gather for worship as an entire body in one service at 10:30. Our final first service will take place on May 29, 2022.
You are more than welcome to stay with your current life group! The only thing we ask is that your life group commits to meeting during Foundations when we are in a "Life Group" cycle. If your group wants to meet outside of church when we are in a "discipleship class" cycle, you are highly encouraged to do so!
No problem at all! We will help you connect with a life group before we begin a new "Life Group" cycle. If you're new to Rock Prairie, we will have a "Newcomers Life Group" during each Life Group cycle to help get you plugged in.
Our goal is to create a new program for kids that they can't wait to attend each and every week. However, we can't do this without significant volunteer support. If you are interested in learning more about serving in this capacity, please contact Liz at lquinn@rockprairie.net.
The Discipleship Classes will consist of four different tracks:
Basics Track: Classes that teach you the Basics about how to follow Jesus
Bible Track: Classes that help you go Deeper in your study of God's word
Family Track: Classes that equip your Family to live a D6 lifestyle
Electives Track: Classes that help you Navigate how to live the Christian life